The A-Z of French Food –L'ABC de la Gastronomie française
Reviewed by Françoise Herrmann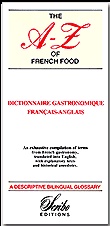 Publisher: Editions Scribo in Paris (France)
Publication date: 2007 - 10th edition
ISBN 2-9503317-0-X
Available from: www.scribo.fr
Price: €24

---
"Cream" in The A to Z of French food resembles "snow" for the Eskimos on more counts than one. There are no less than 23 different types of crème (cream) listed. What is more, The A to Z of French food (designed for tourists, waiters and Maitre'Ds) corresponds to the thin, 140-page, shirt-pocket-sized, version of the larger 480-page professional gastronomy dictionary Cartes et Menus de Restaurant (franais – anglais), and a forthcoming 2008 French to English version , all published by the Editions Scribo, in Paris (France).

23 types of crème [cream]
For all those with cholesterol levels well below 200, the 23 varieties of crème (cream) listed in The A to Z for French food include the following:
crème aigre (sour cream)
crème anglaise (thin, egg-yoke custard cream)
crème au beurre (butter cream for cakes and pastries)
crème au café (coffee cream), crème au caramel (custard cream)
crème au chocolat (chocolate cream)
crème au citron (lemon custard – made with grated lemon peel)
crème brûlée (a type of dessert flan or cream pie with caramelized topping)
crème Chantilly (sweetened, whipped cream)
crème d'asperges (cream of asparagus soup)
crème de Gruyère (Gruyère cheese fondue)
crème de marrons (chestnut cream)
crème de volaille (cream of chicken soup)
crème d'oseille (cream of sorrel soup)
crème épaisse (thick cream)
crème fleurette (low-fat cream, as opposed to crème fraiche épaisse)
crème fouettée (whipped cream)
crème fraîche (the full-fat cream of milk used for making butter)
crème glacée (ice cream)
crème patissière ( confectionner's pastry cream – made with with flour, sugar, butter and eggs)
crème plombières (light custard cream)
crème renversée (caramel custard dessert, cooked in a mould lined with caramel, then turned out upside down – renversée- for serving).

A list that is also topped with three cream-filled expressions, La crème (the elite); C'est la crème des hommes (He's the best one); and C'est de la crème! (said of an easy, agreeable task).

Small but potent
Although The A to Z of French Food is a pocket-sized dictionary (3.5' x 7.5' format), often purchased as an elegant corporate give-away (and in particular by the AIC – French Association of Conference Interpreters), it is surprisingly detailed, handy and well-documented. Beyond 23 different types of crème (cream), you will be further impressed to find 33 types of pommes (de terre), or 20 sorts of cuisson (cooking processes) - à la broche (on a skewer), en daube (braised or stewed), à l'étouffée (slowly stewed) etc., along with almost as many types of chocolat and choux (cabbages or creampuffs, the terms are homonyms in French). Similarly, you will find the short definitions, (termed explanations) both informative and useful, with the added charm of anecdotes and historical tidbits. For example, you will find out beyond translation that Coquilles Saint Jacques are scallop shells: "used as eating and drinking vessels in the Middle Ages by pilgrims to the shrine of St. James of Compostela in Spain, because they were plentiful on the nearby seashore. The shells subsequently became a symbol for those who had done the pilgrimage." This amount of detail and charm perhaps explains how this little dictionary, originally designed for serious food-loving tourists, cornered the market of cooking schools and restaurants in France and Belgium. As such, you will also undoubtedly find a place for The A to Z of French Food among your glossaries and supplemental resources, just in case a menu or two were to come your translator's way.

An appetizer and a teaser
However, for anyone with a professional foot in the world of gastronomie, its endless possibilities of pairings and creativity, arising out of history, economy, geography, traditions, rituals, ethnology, anthropology, literature and art, the 23 types of cream and 33 types of potatoes are but a teaser or appetizer for the rest of language used and needed to cover such a boundless, and highly specialized domain. A forciori for translators of menus, à la carte, cookbooks, food labels (!), or the recipes on packaging, your appetite can only be whetted for the more complete works that Scribo has compiled, especially for professionals. In the interim, enjoy this wholesome snack, while minding your LDLs and HDLs! There is much more to come!