Dictionnaire des rimes - Pierre DesFeuilles
Reviewed by Françoise Herrmann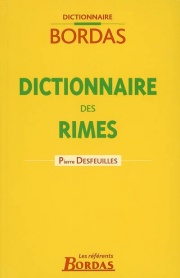 Publisher: Bordas, France
ISBN 2-04-732090-9
Available from: www.amazon.com
Price: €23

---
Beyond the highly specialized domains of poetry and literary translations, there are many instances where technical translators become concerned with the sound of their translations -instances when translations become more faithful when they rhyme in their own way just like the original, or when they are able to capture a certain source tempo and rhythm. The world of marketing and advertising, product packaging, and webpages are just a few examples where technical and informational content, such as lists of chemical ingredients or auto parts, sometimes go hand in hand with what usually pertains to the artistic, in the form of jingles, advertisement messages, logos, and slogans. When a nation from coast to coast starts humming "Reach out and touch someone" (AT&T telephone) or "Just do it!" (Nike shoes), there is more than high performance sports shoes or clear communications behind the catchy words and tunes. It is this extra dimension of sound, rhythm, and rhyme that technical translators also need to tackle, perhaps more often than suspected. For this reason, Pierre DesFeuilles'Dictionaire des Rimes is a most useful dictionary of rhymes, which will help all translators, including the techies, searching for a rhyme in addition to their usual concerns for accuracy, cultural sensitivity, or equivalence.

Content
The Dictionnaire des rimes contains a succinct and wonderfully clear 20-page presentation of the rules of French versification. This front material will introduce you to differences among French rhymes, tempo, and rhythm, while supplying you with more than one frame of reference for identifying them. For example, you will learn that there are rhymes that do not rhyme. These are visual rhymes, or rimes normandes (e.g., mer and aimer [sea and love]). Similarly, you will learn that there are feminine and masculine rhymes, which involve an extra silent syllable rather than a particular vowel sound. For example, probable and vocable (probable and term) are feminine rhymes, while agenda and réséda" (agenda and reseda) are masculine rhymes. Similarly, this small and user-friendly introduction to prosody will walk you through which syllables count when focusing on meter, and where stress is marked in French verses.

The main part of Pierre DesFeuilles' dictionary lists 45,000 words according to the similarity of their final accented syllables. It is here that you will find your rhymes. You will find words that rhyme with whatever sound you are seeking. For example if you need a word that rhymes with abricot (apricot), you will find asticot, coquelicot, haricot, tricot (maggot, poppy, bean, and sweater), among many others for a full rhyme, or rime riche. You will also find bachot manchot, cachot, flot, sanglot, culot, or bibelot (baccalaureat, armless, dungeon, waves, sob, nerve, or trinket), among countless others, for a rhyme that is good enough (without the support of a consonant), or rime suffisante. Without delving into the finer quality of rhymes, you may want to query this dictionary just for suffix sounds, for words ending, for example, in -erbe, -ic," or -omme/-ome, such as verbe, proverbe, adverbe (verb, proverb, adverb), alembic, public, déclic (distiller, public, click), or prud'homme, surhomme, or majordome (labor relations board, superman, butler). The words that you will find listed according to their final accented syllable sounds will be most useful when your source text rhymes or comes alive beyond the informational content, and you need assistance exploring this extra dimension of sounds, rhythms, and beat in the targeted French.

Overall Evaluation
Pierre DesFeuilles' Dictionnaire des rimes is a useful tool to store among your resources for French translations. It contains a user-friendly introduction to prosody, and it will come in most useful for the next jingle, slogan, or catchy headline that you will need to translate to French. Enjoy!